Special Announcement
2009 trade show calendars in Thailand and in Chicago.


Thai Trade Center-Chicago
Government agency of the Department of Export Promotion of Thailand (DEP)
The Ministry of Commerce of the Royal Thai Government.
ThaitownChicago.com
Finally! The party everyone been waiting for all year long. The 12th party of Once a Month in Chi-town project. NYE Party on Saturday December 27th 2008 @ WaBa Korean Bar 5100 N.Western A full bar,great Korean food,Flavor Soju and special bottle service. We guarantee and put all the fun from the 1st to our last party. Come and celebrate New Years Eve with us..special early countdown 2009 before anyone.

5 hours of non-stop dance music from 5 DJs
DJ Jong "THAI DANCE"
DJ Danny Ray "MASH UP"
DJ 2FIVES "OLD SCHOOL"
DJ Sammy "HOUSE"
DJ Gu-mix "HIP HOP"

Door Open @ 11:00pm and Party until 4:00am
Must be 21 and older
$10.00 at the door and Special Thank you for our members if you're our webboard member please send an email to confirm your email and username to be on our guest list and get in for FREE! at Ten@ThaitownChicago.com

For table reservation please call Ten 847.971.7432 (Check out the floor plan on our website for your best spot in the house)


---

Winter Wonder Lake
When nature makes its own art

The lake was totally frozen and covered with thick fluffy snow.
As I was walking on the lake I noticed some cracked openings along the shore.


As I got near, I found they were openings of small
frozen
tidal waves.


This is how the wave froze in midair.
Water freezes the instant it comes in contact with the air.

The formation contains blue ice. Blue ice is created as the ice is compressed and trapped air bubbles are squeezed out. The ice looks blue because, when light passes through the ice, blue light is transmitted back out but red light is absorbed.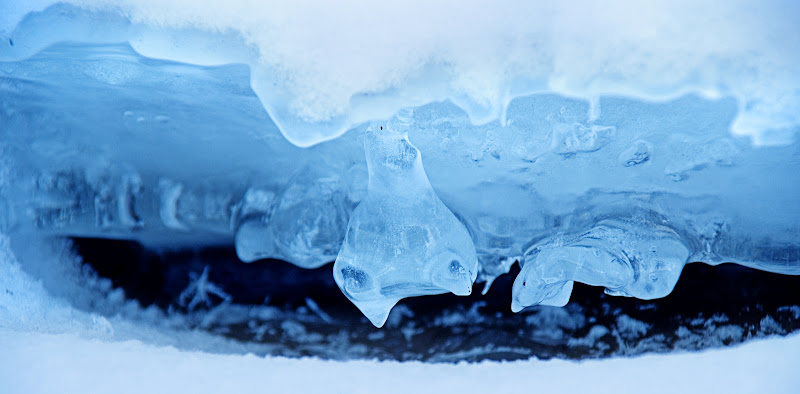 Crystallized frozen wave



Leaves on frozen lake


Further down the lake



I started to see some snow flakes



I just love the abstract look of it.



I am using this one for my desktop wallpaper.

---

National Geographic's top 10

most viewed photos of 2008
Source: China View
1. Best Wild Animal Photos of 2008 Announced
Man and right whale size each other up in the winner of the 2008 Wildlife Photographer of the Year competition's underwater category, announced on October 30. "The whales were highly curious of us. Many of these animals had never seen a human before," Skerry told National Geographic.
(Photo: CRIOnline)
2. Giant, Unknown Animals Found off Antarctica
Collected from deep Antarctic seas, this 9.8-inch-long (25-centimeter-long) giant sea spider was one of 30,000 animals--many new to science--found during a 35-day census in early 2008 and featured in a National Geographic News gallery on March 28. Other odd discoveries included a balloon-like sea squirt and giant starfish. (Photo: CRIOnline)
3. Best Science Images of 2008 Announced
Under intense magnification, a long-fin squid's suckers--each no wider than a human hair--resemble the leafy star of Little Shop of Horrors. This electron-micrograph image may have only won an honorable mention in the 2008 International Science and Engineering Visualization Challenge, but thanks to enthusiastic bloggers, these suckers were the breakout stars of National Geographic News's gallery of the contest's highlights, posted on September 25. Among the other marquee attractions: a bugged-out take on the Mad Hatter's tea party and a "glass forest." (Photo: CRIOnline)
4. Eight Natural Wonders Added to UN Heritage List
Filed with forests, waterfalls, and fantastically shaped granite peaks and pillars, China's 56,710-acre (22,950 hectare) Mount Sanqingshan National Park was among the 174 wild sites--eight of them featured in this gallery--added to the UN World Heritage list in July 2008. Chosen by a committee of the UN's Educational, Scientific, and Cultural Organization (UNESCO), World Heritage sites are natural and cultural areas recognized for their universal value to humanity.
(Photo: CRIOnline)
5. Hurricane Ike Pummels Texas Coast
On Sept. 13 a worker inspects damage in front of the JPMorgan Chase Tower in downtown Houston, Texas, after powerful Hurricane Ike slammed into the Gulf Coast, damaging buildings, flooding streets, and knocking out power for millions of people.With winds reaching 110 miles (177 kilometers) an hour, Ike came ashore above Galveston, Texas, as a strong Category 2 storm just after 3 a.m. ET.(Photo: CRIOnline)
6. Chile Volcano Erupts With Ash and Lightning
After 9,000 years of silence, Chile's Chaiten volcano erupted, generating on May 3 what may have been a "dirty thunderstorm." These little-understood storms may be caused when rock fragments, ash, and ice particles collide to produce static charges--just as ice particles collide to create charges in regular thunderstorms. The eruption, which continued off and on for months, forced the evacuation of thousands of residents and cattle from this corner of Patagonia. (Photo: CRIOnline
7. Alien-like Squid Seen at Deep Drilling Site
A mile and a half (two and a half kilometers) underwater, this alien-like, long-armed, and--strangest of all--"elbowed" Magnapinna squid is seen in a still from a video clip obtained by National Geographic News from and published on Nov. 24. (Photo: CRIOnline)
8. Colossal Squid Revealed in First In-Depth Look
The carcass of a colossal squid floats in a tank at the Museum of New Zealand on April 30, giving scientists their first close look at the elusive deep-sea creature. The squid was frozen for months after being caught by fishers off Antarctica in 2007. A dissection of the thawed beast yielded astonishing discoveries, including the animal kingdom's largest eyes and light-emitting organs that may serve as cloaking devices, scientists said. (Photo: CRIOnline)
9. Best Microscopic Images of 2008 Announced
Glowing-hot carbon nanotubes form an expanding orange ball in this winning image from the 2008 Small World photomicrography competition, sponsored by Nikon and featured in an October 15 National Geographic News gallery. In nine other masterworks of magnification, a beetle danced on a pin, and drugs yielded crystal rainbows. (Photo: CRIOnline)
10. Hurricane Ike: Galveston Braces for Storm
Sylvia Renteria recoils as a wave churned by Hurricane Ike meets a seawall in Galveston, Texas, on Sept. 12. Before landfall, the National Weather Service's chilling warnings of "certain death" spurred officials and residents of the coastal town to gird for the worst--and stoked fears of a replay of the devastating 1900 Galveston hurricane that killed 6,000.(Photo: CRIOnline)
---

Living Consciously
I don't think there is a single idea or a way of life but many ideas that make up this life philosophy.
Reverence for nature

A desire for personal self-reliance

Creative FUN / leisure

Caring about community - loving your neighbor

Knowing that the primary reason for work should be to have well-being as apposed to making money

A reverence for simplicity, humility and the functional things in life
Be kind to the earth na ka.

Happy Holidays,
ThaiChicagoland.com

---