Karb is my dear friend from Thailand who is a famous food stylist in Thailand.
He and his 3 other friends came to visit me in Chicago this past fall.

Come tour Chicago with us at the Millennium Park in downtown Chicago. Enjoy visual tour through my personal photo album at the Bengtson's Pumpkin Farm in Homer Glen. The farm was voted the best Pumpkin Farm in Chicago by My Fox Chicago. Plus, a special bonus photo album of Karb visiting Khun Arun's lakeshore condo in Chicago, a must-see rare coverage.

www.KarbStyle.com
About Khun Suthipong Suriya or Karb
He grew up in Nong Khai, where his family runs a restaurant. He developed his artistic and culinary talents with Kuru To, ML Jirathorn Jiraprawat, a very famous food stylist and columnist in Thailand. Now he's on his own creating stylish and appetizing culinary delights. He is the owner of Karb's Studio, a townhouse that he turned into an orange colored workspace to create his edible art. His work has been published in countless magazines.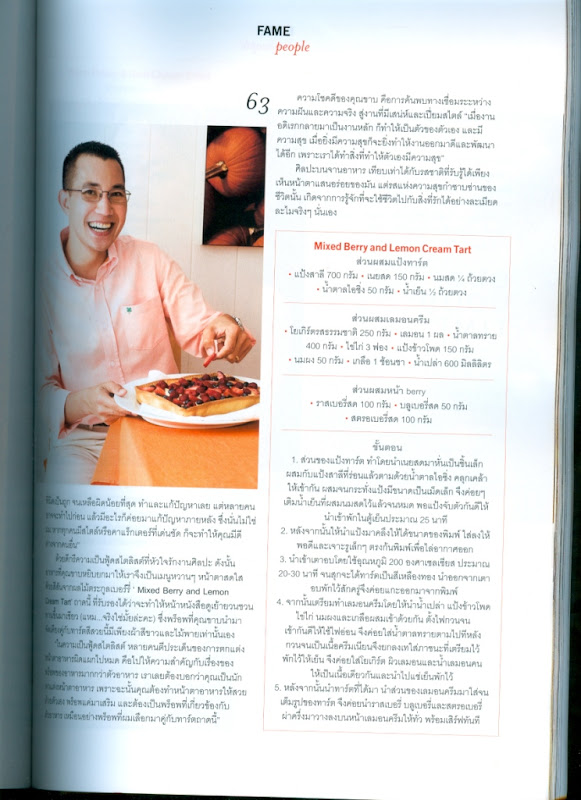 Karb on The Nation


Suthipong Suriya is teaching Thai cooks how to make their food look superbly stylish and appetizing. Food styling has come late to Thailand, and even today it's not fully appreciated by many restaurateurs and food lovers. Still, Suthipong Suriya, or "Karb" as he's known to family and friends, is out to change all that with his newly opened Karb Studio.

His mission is to teach people that there's more to food than just cooking and serving it. "Food styling is like interior design. It's an art that requires both knowledge of cooking and food design. It should be pleasing to the palate and the eye,'' he says.


---

Khun Arun graciously invited Karb and his friends to his lakeshore condo in Chicago.



The condo is just a step away from lake Michigan and it's beautiful sand beach.



Khun Arun in his living room.



I am very impressed with the hand-painted mural by the hallway.



I LOVE this chinese dragon.



and other details



The talented artist behind this mural art is P'Noi, Khun Arun's brother.



Master bedroom with gorgeous lake view.



The cool retro kitchen filled with antique kitchenware.



Karb, Khun Arun and Dr. Damrongsak



more friends from Thailand

---
Karb at the Millennium Park

Millennium Park is an award-winning center for art, music, architecture and landscape design. The result of a unique partnership between the City of Chicago and the philanthropic community, the 24.5-acre Park features the work of world-renowned architects, planners, artists and designers.



Anish Kapoor's hugely popular Cloud Gate sculpture



The Cloud Gate is also known as " The Bean"



The interactive Crown Fountain by artist Jaume Plensa



Among Millennium Park's prominent features are the Frank Gehry-designed Jay Pritzker Pavilion, the most sophisticated outdoor concert venue of its kind in the United States.



The famous lion in front of the Art Institute of Chicago.



Kitchen Garden at the Grand Park



We found a partially-eaten carrot, believing to be committed by an unidentified rabbit.

---
Bengtson Pumpkin Festival
www.pumpkinfarm.com

The farm was voted to be the best pumpkin farm in Chicago by My Fox Chicago.


You'll experience hours of enjoyment including a relaxing Hayrack ride, pumpkins (of course!), a completely animated Haunted Barn, a giggling animated Fun Barn, the "famous" action-packed Pig Races (running 10x a day on the 1/2 hour), the adorable Petting & Feeding Zoo, The Giant Crazy Corn Maizey, The animated singing chickens at "The Grand Ole' Poultry", The Pumpkin Launcher, the Flying Frogs ride, a Train Ride, Bluegrass playing Skeleton Band, Farm Animals, Straw Tunnel, the Honey Pots T-Cup ride, Pony Rides, the Frog Hopper Ride, the "Moulin Rouge Chickens on a Hot Tin Roof", delicious refreshments such as hot apple cider with a cinnamon stick, pumpkin spice cappuccino, eats & treats: Hot & Fresh Funnel cakes, Ole' Tex BBQ, delicious Chili in a Bread Bowl and Farm made Kettle Corn (just to name a few) and, along with various Halloween displays all in the colorful splendor of autumn. On the Weekends... enjoy Home Run Inn Pizza and Roasted Sweet Corn



Straw Tunnel



Bluegrass playing Skeleton Band



Pig Race running 10x a day on the 1/2 hour



Farm Animals



We all liked this one. แม่มด
ซุ่มซ่าม


White pumpkin



Moulin Rouge Chicken on a Hot Tin Roof



The PumpkinLauncher



Hayrack Ride



Frog Hopper Ride



Completely Animated Haunted Barn